Only 1 second separated Fly V Australia
p/b Successful Living's Ben Day and Jelly Belly's Phil Gaimon going into the 3rd stage. The Fly V p/b Successful Living team rode attentively and kept things under control, with race leader Ben Day picking up a six second bonus in the hot spot sprint and a prime.
Alessandro Bazzana earned enough hot spot points to wrap up the Green Sprinters Jersey.
With five to go, Team OUCH got their train rolling for sprinter John Murphy, and with two to go the Bissell Team tried to derail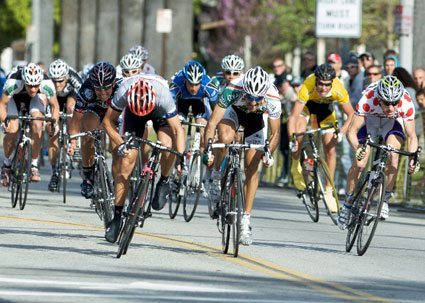 it for their sprinter Cody O'Reilly. In the end, both teams came up a little short on the long circuit and Fly V's Jonathan Cantwell powered to the line first with a bike throw for the win just beating out Sebastian Haedo (Colavita) for second and John Murphy (OUCH) for third. In the end Ben Day extended his GC lead by 6 seconds and Fly V won the day (J. Cantwell) won the Green (A Bazzana) and the GC (B. Day).
Ben Day was up early this morning, even after last night's celebration. The team is already planning for next weekend and the
Redlands stage race
.
Fly V will be in contention for Redlands, already showing they are a player against last year's winning team, Rock Racing. Let's hope they can show their power again over Chris Baldwin, Rahsaan Bahati and Justin Williams.

The field is highlighted by stand out performers such as BMC's Jeff Louder and Scott Nydam, Neil Shirley and 2007 winner Andy Bajadali of Kelly Benefits Strategies, Bissell's Ben Jacques-Maynes, OUCH's Floyd Landis and Rory Sutherland, and 2005 winner Chris Wherry (Team Hotel San Jose). The list includes two current national champions; a Tour of California KOM Jersey winner; a two-time NRC Champion; former RBC stage and GC winners; the recipients of the Most Aggressive Riders Jersey at both the Tour de Georgia and Tour of California; the 2008 Carroll King Sportsmanship Award winner and former US National Road Champion, not to mention the winner of the '06 edition of the Tour of California, and the Tour de Georgia…
Go get them boys!