The winning break: Evans, Day, Miller and Denny.
Fly V Australia p/b Successful Living won our 1st race with their Tour of California contingent together for the first time. Four of their riders only came into town from Australia on Thursday. There were several other teams here for the Pro/1/2 race at Blvd. Floyd Landis with OUCH, Jelly Belly, Team Type 1 and Rock Racing were testing the waters yesterday.
At the start there was a mini blizzard, with snowflakes the size of quarters and a crash within the first mile. Starting on the first lap of 4 our team dominated the race with Bernie Sulzberger in a breakaway most of the race and Ben Day winning the race.
..."We had safety in numbers there and we worked well together coming into the finish," Day observed of his winning attack, which he launched at a kilometer and a half to go. "It was a nice way to start the year for the team." ...
Click here for VeloNews Article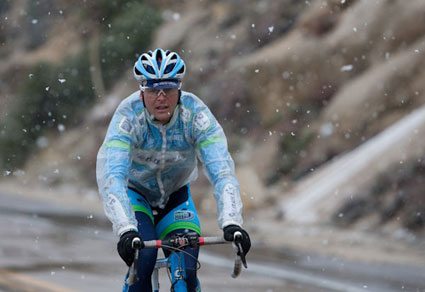 To the left is a picture of Chris Daggs who runs the
Development team
for
Swamis cycling club
(one of the sponsors of Fly V)